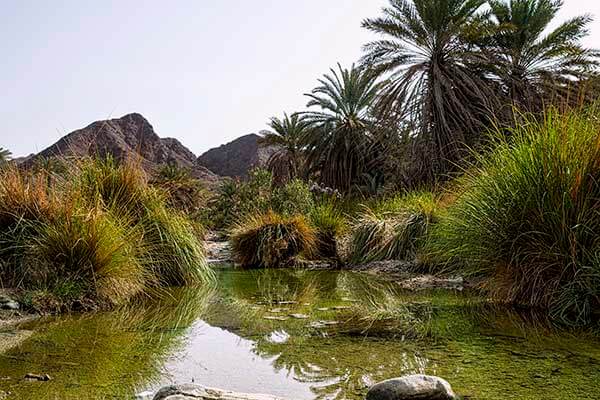 Dhaid, or Al Dhaid, is the capital of the Central Region of the Emirate of Sharjah in the United Arab Emirates. An oasis town, it has extensive irrigated date palm plantations with water channelled from the nearby Hajar mountains at least in part through ancient tunnels dug for that purpose, known as aflaj in Arabic (falaj in the singular). Al Dhaid has long occupied a strategic location in the mouth of the important Wadi Siji.
Al Dhaid is located on the desert plain East of the coastal city of Sharjah and is bisected by the East/West Road from Sharjah to Masafi in the foothills of the Hajar Mountains. To its North lies the inland oasis town of Umm al-Quwain emirate, Falaj al-Moalla, while the road south leads to the town of Madam on the Dubai/Hatta Road. The Sharjah/Mileiha/Kalba road passes to the south of the town.
Al Dhaid is an oasis town, fed both by seasonal wadis and by underground aquifers and water sources. It has extensive date palms and other plantations.