Lasting Impression: Samia Halaby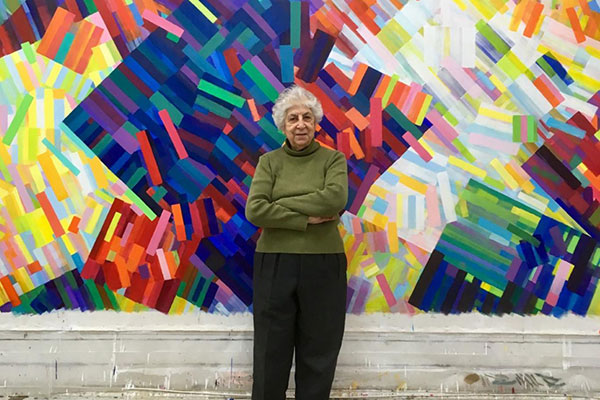 Samia Halaby is one of the pioneer abstract artists in the Arab world. With a career spanning over six decades, she became pivotal in studying and executing the concept of abstraction as well as deconstructing geometry and form.
Born in Jerusalem,Palestine in 1936, her distinct style has made her a leading figure in Arab art history.
The exhibition will present a framework of her art and practice, highlighting works from her journey as an artist and a scholar, starting with the earlier works from the 60s, to the latest computer-based art work.
The exhibition will include 180 works of various sizes and mediums.
The aim of the exhibition is to present to the audience an overview of the artist and take them through a journey of six decades of her work. Giving them insight and details of each time period and style. As well as bringing to light certain historical events that shaped the artist's life and defined her practice.
The exhibition presents an accumulation of works by the artist Samia Halaby. Her work spans over a period of six decades of dedicated painting and exploring the possibilities surrounding image making.  In a rich accumulation of works, the exhibition presents contemplative areas with different analytical angles of visual reality and ways of simulating it. Samia Halaby presents her intellectual, visual, and technical approach by employing the elements found in reality and their interaction with vision, perception, and the illusion that creates depth and movement in flat spaces, deviating from perspectival representation.  Her significant and concentrated contribution is positioned within the global artistic contributions that expand and develop the concepts of image-making and abstraction. Samia Halaby is a unique and pioneering figure in her generation as an artist who employs both traditional and digital media in presenting her works to the public. In her overall body of work, she presents a dynamic dialogue of visual and perceptual meaning regarding her concept of abstraction, making the exhibition intense and vibrant formulations.
As a Palestinian-American artist, Samia Halaby presents
her own philosophy about image-making and painting as an independent artist, separate from her artistic practice committed to presenting the Palestinian narrative in some of her documentary productions.
She produced this immense body of work with seriousness as a researcher who is never without a spirit of humor and playfulness.
The exhibition is part of the Lasting Impressions series, held annually at the Sharjah Art Museum. The aim is to focus on prominent Arab artists who had a prolific career and left a lasting impression on the development and evolution of modern art in the Arab world.