Sharjah Fort (Al Hisn)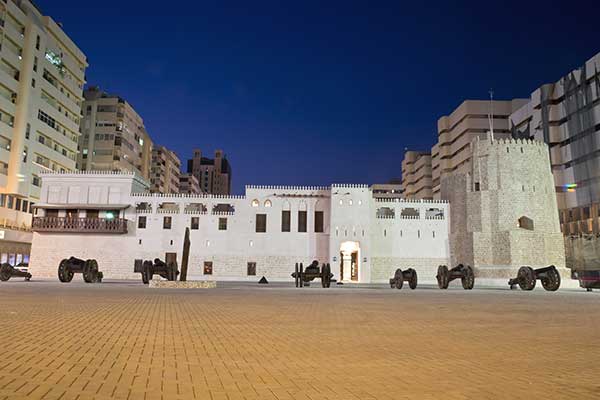 Al Hisn was renovated in 1996, and reopened its doors in 2015.
Step inside this historic landmark to learn about the modern history of Sharjah, the ruling family, the history of the fort, the historic defence strategies and Sharjah's life 196 years ago.
Exploring the rooms of the fort, you can enjoy the large collection of photographs and archaeological artefacts, learn about the first jurisdiction system adopted in Sharjah in Al Muhalwasa jail, and learn how "dibs" (date syrup) was made in the past. Here, you can also discover the weapons and defence strategies used by the Sheikhs and their guards, as well as the lifestyle of the ruling family.
Located in the Heart of Sharjah, this wonderful edifice, built in 1823, was Sharjah's government headquarters and the residence of the ruling Al Qasimi family.
The Fort is a square shaped construction, featuring a spacious yard in the middle. It consists of two main floors and three towers built for defensive purposes. When first built in 1823, it was considered the biggest and most important construction in Sharjah.
Saturday to Thursday 8:00 AM – 8:00 PM
Friday: 4:00 PM – 8:00 PM